The Industrial Filters Manufacturing Process
Dedicated to continuous improvement in industrial filters manufacturing processes, our proven steps in filters manufacture led to superior filtration solutions.
Filter Manufacturing Process
With Pallman's combined filtration expertise and knowledge, we are able to manufacture and supply a wide range of filtration products to fulfil almost all industries. After the stages of research, innovation, design, come the filter manufacturing process which we have refined to six distinct steps. At each step Pallman's engineering teams strictly adhere to quality standards, taking control of the manufacturing process 'end to end'. In this way we are able to maintain quality where other organisations who outsource cannot. Our teams work across a wide variety of industries and applications in this way to deliver premium quality filtration solutions.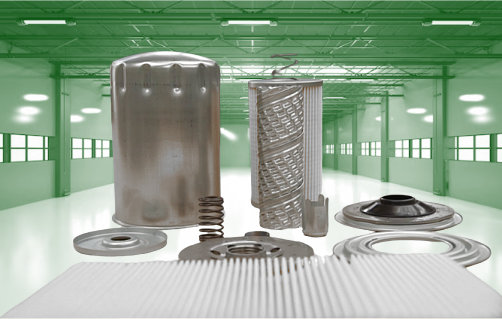 Pallman's Research and Development department first check the filter media used in the OE standard requirements and products.
Different parameters are checked in the media used in the OEM, such as (Filtration Efficiency, Burst Strengths pressure, Capacity, Pore size, Air permeability and valve pressure etc).
According to what is found in the media of the OEM standard, the exact or equivalent media is selected from the range of filters media.
If the equivalent Media is not available in our range, then our filtration media and paper suppliers are requested to provide us with the similar media which is added into the range as a new media in our range and begin the new production of new specified products.
When there is a special requirement from any customer to improve the media of any existing product, or when we are requested by customers to improve the media for any product to long life version with more capable media, and supply better and exceeding quality than OEM, then a new research process and development begins to find the similar media and revise our current product range by using a new improved media on our current and new products range manufacturing process.
After the selection of the media. then the process is just to develop the pleating operations for the media in our automatic pleating production machines and equipment to get the element of the product.
Trusted
Relied upon to provide critical filter solutions worldwide
Enthusiastic
Can do attitude, energetic, proactive, and passionate about filtration
Quality
Standards, quality compliance, certification built-in at the core, 'perfection on each filter'
Innovating
Innovative filter design customised to specific applications and industries
Investment
Continual investment in research, design, and manufacturing technology
Service
Customer service tailored to each client and sector, with continuous development
Global
Global reach and service from headquarters in the UK to worldwide locations
Sustainable
Dedicated to manufacturing quality, producing filters that help our environment